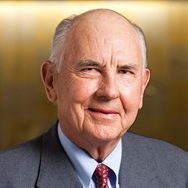 A. James Clark
A. James Clark
December 2, 1927 – March 20, 2015
Born in Richmond, Virginia in 1927, Alfred James Clark moved to the Washington, DC area with his parents, Woodruff and Sallye (Wray) Clark, when he was six years old. The son of an insurance salesman and a homemaker, Clark studied civil engineering at the University of Maryland on academic scholarship, hitchhiking each day from his parents' Bethesda, Maryland home to attend classes in College Park.
After graduating, Mr. Clark worked his way up the ladder at the George Hyman Construction Company to become general manager, later buying the company in 1969. The personal values Mr. Clark adhered to throughout his life were the same values he inherited from George Hyman: honesty, integrity, a dedication to quality. Hyman Construction eventually became part of what is now the multi-billion-dollar Clark Construction Group, which is behind some of the country's most iconic buildings.
The Clark Construction Group is now one of the largest privately held construction firms in the United States, and Mr. Clark was the tireless engine who launched its success. While the company boasts over 2000 projects nationwide, Clark Construction Group was decidedly homegrown, helping to build much of the Washington city skyline: the Smithsonian National Museum of African American History and Culture, Nationals Park, Capital One Arena and World Bank Headquarters are all Clark buildings. The company's tower cranes—an innovation Mr. Clark introduced during his time at Hyman to expedite the building process—all carry the blue and white Clark placard and are prolific in the region. After Mr. Clark's death, several Clark Construction Group executives bought the company, continuing the tradition of employee ownership.
Jim Clark's legacy in the Washington area, and the nation, can be found in his philanthropy as well as his iconic buildings. "I believe that if you make your money in a community, you have an obligation to give back to it," Clark told Washingtonian magazine in 2010. His benevolence enriched communities, and he actively encouraged and supported employees engaged in volunteerism. He had a passion for education, contributing time and significant funding to his alma mater. He strongly believed that engineers could help lay a foundation for economic growth – regionally and nationally.
The Montgomery College (MC) Foundation is fortunate that Mr. Clark's family foundation, now known as the A. James & Alice B. Clark Foundation in honor of Mr. & Mrs. Clark's 64 year marriage and partnership, also has made significant investments in scholarships for MC students. In 2015, the Foundation established new current-use and endowed scholarships for engineering students with financial need at MC. Then, in 2019, the Foundation created a scholarship for students served by the Achieving Collegiate Excellence and Success (ACES) program, which is designed to provide a seamless and supportive pathway to associate's and bachelor's degrees for students who have been historically underrepresented in the higher education system. Together, these Clark Foundation scholarships will make a college education more available to MC students for many years to come.